T2108 Status: 36.2%
T2107 Status: 29.1%
VIX Status: 15.6 (back to the 15.35 pivot)
General (Short-term) Trading Call: bullish – see below for caveats
Active T2108 periods: Day #7 over 20%, Day #1 over 30% (ending 9 days under 30%) (overperiod), Day #11 under 40%, Day #15 below 50%, Day #30 under 60%, Day #371 under 70%
Reference Charts (click for view of last 6 months from Stockcharts.com):
S&P 500 or SPY
SDS (ProShares UltraShort S&P500)
U.S. Dollar Index (volatility index)
EEM (iShares MSCI Emerging Markets)
VIX (volatility index)
VXX (iPath S&P 500 VIX Short-Term Futures ETN)
EWG (iShares MSCI Germany Index Fund)
CAT (Caterpillar).
IBB (iShares Nasdaq Biotechnology).
Commentary
S&P 500 testing resistance from 50 and 200DMAs. Closed most trades from near oversold conditions: https://t.co/WOeDxqhHYU $SPY
— Dr. Duru (@DrDuru) December 23, 2015
The trades on oversold conditions that I triggered a tad early worked out after a nice three-day bounce on the S&P 500 (SPY).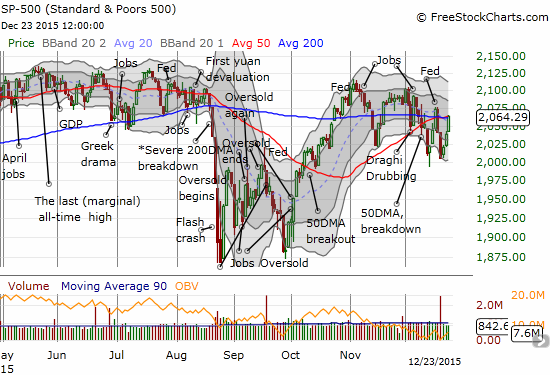 The S&P 500 (SPY) bounces back but closes right on resistance from perfectly converged 50 and 200-day moving averages (DMAs)
T2108, the percentage of stocks trading above their respective 40DMAs, has soared from the edge of oversold conditions (20.1%) to 36.2%, a 2-week high. This is an interesting contrast and a potential bullish divergence from the S&P 500 (SPY). The index's rally has not yet erased the big 2-day post-Fed fade from last week which means it is suddenly underperforming relative to T2108. A big tension now exists between this bullish divergence and an index that closed right at critical resistance. On top of this, the volatility index has plunged but sits right at the 15.35 pivot. This pivot has served as a springboard for the last two pops in volatility.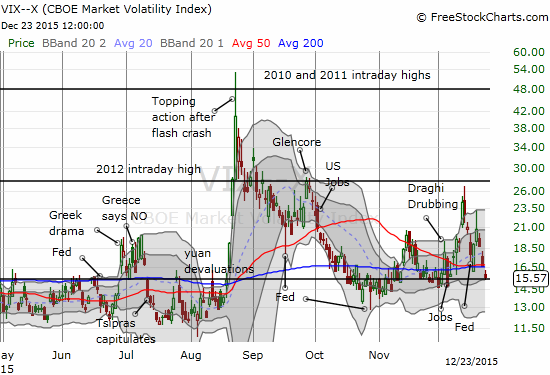 And just like that, the market no longer feels much angst.
While I sold my ProShares Ultra S&P500 (SSO) call options, I held my put options on ProShares Ultra VIX Short-Term Futures (UVXY). These put options expire at the end of the year, but I will likely lock in the profits on the holiday-shortened Christmas Eve trading session.