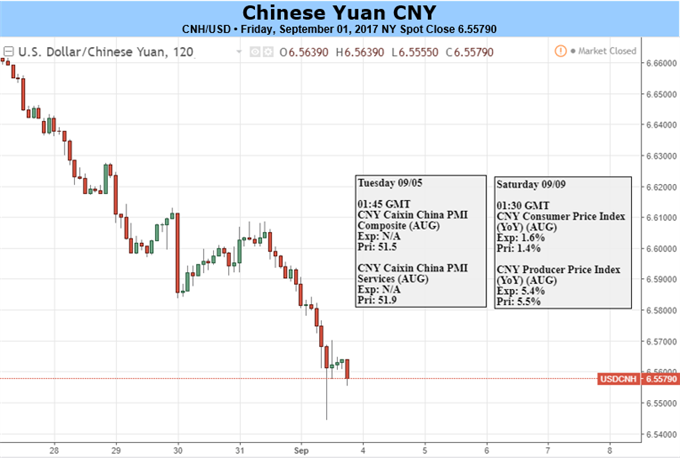 Fundamental Forecast for CNH: Neutral
The Chinese Yuan had the largest weekly gain against the U.S. Dollar since January in the offshore market. The USD/CNH dipped 6.5442, a 14-month low level (high for the Yuan), following the release of a worse-than-expected U.S. Non-Farm Payroll (NFP) print. On the contrary, both the Chinese official and Caixin manufacturing prints released earlier beat forecasts, adding strength into the Yuan. Looking forward, China will have a heavy economic calendar, including Consumer Price Index, exports and imports, which could add some volatility to Yuan rates. Yet, the primary gauge that could impact Yuan's trend is still the PBOC's guidance.
The Dollar Index (DXY) seems to approach a near-term bottom amid the Dollar weakness: the index failed to set a new low after the release of the disappointing NFP figure. However, the USD/CNH headed down further amid the Yuan strength. In fact, the Yuan not only outperformed against the Dollar but also against other major currencies: over the past week, the CNH gained +1.24% to USD, +0.69% to GBP, +1.77% to EUR, +2.06% toJPY, +0.49% to CAD, +0.78% to AUD and +2.41% to NZD.
The Chinese regulator has been guiding the Yuan higher: The PBOC strengthened the Yuan reference rate for five consecutive days this week; on Friday, the Yuan fix was set to be 6.5909, the strongest level since June 2016. A key thing to watch next is how the PBOC will use the "counter-cyclical factor" to guide the Yuan when it is on an upward trend. On May 26, the regulator introduced this factor and added it into the reference rate formula, in the effort to curb one-way bets on the Yuan.
Based on an observation, the factor has been used to counter against oversold in the Yuan when the currency was losing against the Dollar. During late April to early May, the Yuan failed to pick up against the Dollar despite that the Dollar showed weakness; while the DXY lost -1.80%, the USD/CNH gained +0.66% over the same span of time and approached the record-high level again. If the Yuan cannot appreciate against the Dollar when the Dollar is weak, it would bear even greater pressure when the Dollar strength is back. As a result, the Chinese regulator introduced the counter-cyclical factor in late May.